Sanford USD Medical Center
The Sanford USD Medical Center in Sioux Falls provides leading care for patients from across the Midwest. As the largest hospital in South Dakota and a teaching hospital for the University of South Dakota Sanford School of Medicine, we are proud to offer the latest in innovative care. Our highly skilled medical teams are known for their passion, leadership and dedication to patients.
We have been consistently named a Top 100 Hospital in the nation. Our comprehensive care includes emergency air transport, neonatal and pediatric intensive care, transplant services and specialty centers in children's care, heart, cancer, neuroscience, sports medicine and women's health. With 545 beds and 4,000 employees, we are here to meet you and your family's health care needs.
The Sanford USD Medical Center is the only Level I Adult and Level II Pediatric Trauma Center in South Dakota verified by the American College of Surgeons. When every second counts, we're here to provide the highest level of care to our patients.
Services
Cardiac Catheterization Laboratory

Low Intervention Birth

Pediatric Trauma

Wound Care
1305 W. 18th St.
Sioux Falls, South Dakota 57117
Sanford USD Medical Center Doctors
Accreditations
As South Dakota's only Level I Trauma Center, Sanford USD Medical Center provides the highest level of care to critically ill or injured adults in the state.
The medical center is verified by the American College of Surgeons.
NICHE Senior Friendly Member
Nurses Improving Care for Healthsystem Elders (NICHE) recognizes health care organizations for providing age-friendly, exemplary nursing care to patients ages 65 and older.
NICHE imparts principles and tools to stimulate changes in clinical practice to achieve patient-centered care and helps nursing teams effectively meet the needs of older adult patients.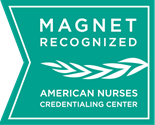 The American Nurses Credentialing Center's Magnet designation is the most prestigious credential a health care organization can achieve for nursing excellence and quality patient care. Research demonstrates that Magnet designation provides specific benefits including improved patient outcomes, higher patient satisfaction and high job satisfaction among nurses.
Sanford USD Medical Center and Clinics has been a Magnet-recognized organization since 2003, being designated five consecutive times for nursing excellence.