Recover Your Mobility
If you feel sidelined by pain, injury or a health condition, get back to doing what you love with help from Sanford Physical Therapy.
Physical therapists evaluate, treat and prevent mobility injuries and disorders. They help patients safely recover and regain their mobility.
Our team will partner with you to design a comprehensive treatment plan individualized to your condition. You'll get specific exercises that will help your movement improve. We'll get you back to your daily routine as quickly and safely as possible.
Benefits of Physical Therapy
Physical therapy is an important part of the rehabilitation process. It helps patients get back to their normal routines while avoiding future injuries. Physical therapy can help some patients avoid surgery.
You'll work one-on-one with an experienced physical therapist who will help your body heal at its own pace. Physical therapists work to reduce your pain and increase your range-of-motion. As you progress, they'll adjust your treatment plan accordingly. They'll help you return to your daily routines without re-aggravating your injury.
Physical therapists can support athletes before an injury happens. They correct imbalances and weaknesses to help athletes avoid future injuries.
Physical therapy can be life-changing for some patients.
Our Rehabilitation Specialties
Find a physical therapist offering the right treatment for you. Sanford Physical Therapy has therapists specializing in a variety of services and therapies.
We offer:
Aquatic therapy
Neurorehabilitation
Postural restoration
Find a Rehabilitation Specialist
Providers at Sanford Physical Therapy specialize in a variety of mobility disorders, surgeries, injuries and illnesses. Connect with a physical therapist in your area to recover your mobility quickly and safely.
Find a Physical Therapy Location
We offer rehabilitation services to communities across the Upper Midwest. Find a clinic in your area.
Find a Rehabilitation Clinic
Learn More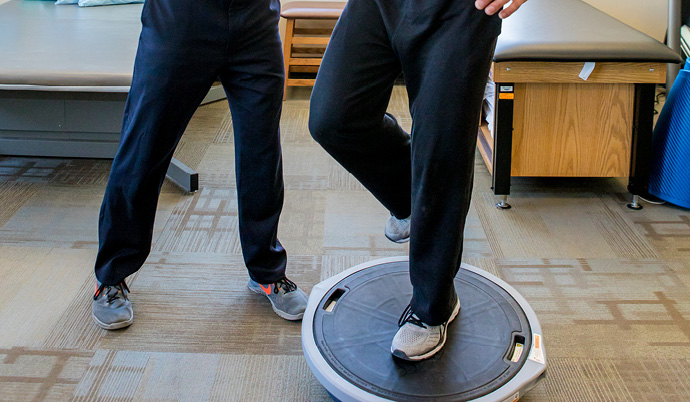 What is Postural Restoration?
You develop patterns of muscle activity over years by the way you sit, stand, work, sleep and even breathe. If your daily habits are causing you pain, you may need a balance adjustment. Postural Restoration Institute-trained physical therapists at Sanford Health can explain how this treatment may be right for you.
Physical Therapy Guidelines
Sanford Health News
background-image

With early detection, colon cancer is 90% treatable

background-image

Sanford Health's dynamic approach to cancer care offers access to clinical trials
Classes & Events
background-image

Thu 03/23/23 6:30 PM - Thu 03/23/23 9:00 PM
Sanford South University

background-image

Fri 03/24/23 10:15 AM - Fri 03/24/23 11:00 AM
Family Wellness Center