Specialists in Women's Health Care
While caring for others, don't forget your own health and wellness. Women's health is our specialty at Sanford Women's.
Our OB/GYNs and women's health providers are here for you every step of the journey – from birth control to prenatal care to menopause and everything in between.
See us for women's health care at each stage of life:
We know choosing your maternity hospital is an important decision. From even before baby, choose Sanford Women's Health for our specialists in fertility and reproductive medicine, prenatal care, labor and delivery, and support services for you and your newborn.
Breastfeeding: There are so many benefits to breastfeeding that we want to make it easier for you and your baby to nurse as long as possible. Our lactation consultants can answer questions and solve breastfeeding challenges.
Fertility and Reproductive Medicine: If your goal is parenthood, we can help. We also specialize in diagnosing and treating many conditions that affect the male and female reproductive systems.
Low Intervention Birth: Your obstetrics team will help you have the labor and delivery experience you want. This includes low medical intervention options such as hydrotherapy, massage, doulas and more, depending on your location.
Maternal Fetal Medicine: We can help you through a high-risk pregnancy. Our maternal fetal medicine specialists provide advanced diagnostic testing, high-risk obstetric care, neonatal intensive care and more.
Pregnancy Support: Sanford Women's Health provides pregnancy support services including family planning, pregnancy and childbirth classes, group prenatal support, newborn care and breastfeeding support.
Choose Sanford Women's Health for your gynecology needs – annual pelvic exams and pap smears, menopause care, sexual health care and more.
Birth Control: Your gynecologist helps you choose the best birth control for you based on your own health history, family needs and lifestyle. Sanford Women's providers offer a variety of birth control options.
Bladder Health: Bladder control problems are common, but you don't have to live with them. We help you through a variety of bladder health conditions including incontinence, pelvic prolapse and more.
Gynecologic Oncology: We specialize in providing care for women with pelvic cancer, precancerous conditions and complex pelvic concerns.
Gynecologic Surgery: If you need surgery for conditions affecting your reproductive organs, see Sanford Women's urogynecologists and OB/GYNs. We often perform laparoscopic surgery – minimally invasive procedures that allow you to recover more quickly.
You deserve to thrive in midlife. As you transition from your childbearing years to menopause, your Sanford Women's doctors are here to support you and your unique needs.
Bone Health: We can help you prevent osteoporosis and injuries related to bone loss as you age. See Sanford Women's for bone density screening, exercise recommendations and more to keep you at your best bone health.
Breast Health: Midlife is an important time to be vigilant about breast health. Sanford Women's helps you schedule your mammogram and other screenings that are best for you. In addition, you have access to breast cancer specialists at Edith Sanford Breast Center.
Depression and Mood Swings: This time in your life can bring unpredictable hormone fluctuations combined with stress and other midlife symptoms. We're here to help you through the normal depression and mood swings that can result.
Health Behavioral Coaching: Sanford Women's Health offers health behavior coaches. We help you find and stick to a plan for healthy living through exercise, nutrition and more.
Hormone Therapy: When menopausal symptoms get in the way of everyday life, you have options for treating them. Visit with your Sanford Women's doctor about hormone replacement therapy (HRT), which replaces the female hormones your body is no longer producing during menopause.
Sexual Health: Intimacy can change as your body changes in midlife. If you're experiencing vaginal dryness, pain during intercourse or other sexual health concerns, choose the specialists at Sanford Women's Health.
Find A Women's Care Specialist
You need compassionate care in a convenient location. Visit Sanford Women's Health in and around Sioux Falls, South Dakota; Fargo, North Dakota; Bismarck, North Dakota; and Bemidji, Minnesota.
Find Women's Providers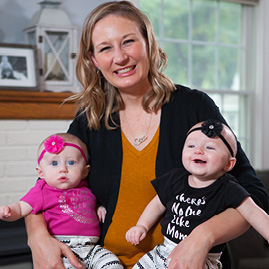 From IVF to a high-risk pregnancy, Christie Conover became a mom at Sanford Women's.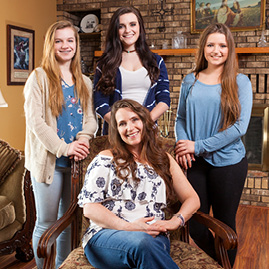 Kari Matthys, a mother of three young women, never imagined she would have to share a breast cancer diagnosis with them.
Sanford Health News
background-image

"It's nice to know that I'm helping someone else's child."

background-image

She went from being a grateful patient to treasured Sanford Health employee.
Classes & Events
background-image

Sat 04/27/19 6:30 PM - Sat 04/27/19 8:30 PM


background-image

Sat 04/27/19 9:30 AM - Sat 04/27/19 11:30 AM
2801 South University