Sanford Children's Hospital Sioux Falls
Sanford Children's Castle of Care Hospital in Sioux Falls is a vibrant, colorful world where sick and injured children find inspiration, imagination and play to be as important to healing as our leading technology, breakthrough research and advanced medicine.
The Castle of Care Specialists
Our leading team of pediatric specialists focus on providing clinical services, advocacy, research and education to advance and ensure Sanford Children's Hospital provides the latest in care and services to every child we treat.
Take a tour of our children's hospital and neonatal intensive care unit.
Specialties
Pediatric Allergy & Immunology

Pediatric Anesthesiology

Pediatric Critical Care

Pediatric Hematology

Pediatric Infectious Disease

Pediatric Neonatal-Perinatal Medicine

Pediatric Psychiatry

Pediatric Psychology

Pediatric Radiology
Services
Athletic Training

Bleeding Disorders

CHILD Services

Pediatric Diabetes

Pediatric ECMO

Pediatric Nutrition

Pediatric Therapy

Pediatric Trauma
1600 W. 22nd St.
Sioux Falls, South Dakota 57117
Sanford Children's Hospital Sioux Falls Doctors
Accreditations
Gold Safe Certified by Cribs for Kids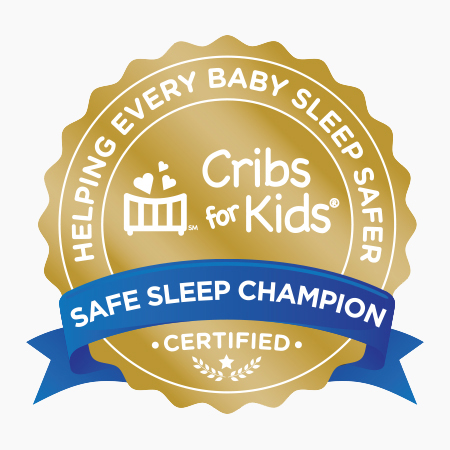 Every year in the United States, thousands of babies die suddenly and unexpectedly. These deaths are called SUID, which stands for "Sudden Unexpected Infant Death." At Sanford Children's Hospital Sioux Falls, we've worked hard to ensure your infant will sleep safely during his or her stay.
Cribs for Kids gives hospital certification to programs that have successfully reduced hazardous risks to infants while they sleep. These hospitals are committed to exercising best practices and to education about infant sleep safety.
Keep your baby safe when you bring him or her home. Create a safe sleeping environment for your infant by taking these steps:
Always use a firm sleep surface that is covered by a fitted sheet. This could be a crib, bassinet, portable crib or play yard that conforms to the Consumer Product Safety Commission's safety standards.
Place babies on their backs to sleep, both at night and for naps.
Keep soft objects like pillows, blankets and toys out of the sleeping area.
Your baby should sleep without anyone (either a parent or anyone else) in his or her sleeping area.
Do not let your baby sleep in an adult bed, on a couch or on a chair.
Keep your baby's sleep area in the same room where you sleep for his or her first 6 to 12 months.