Sanford Aberdeen Medical Center
Sanford Aberdeen Medical Center works to meet the growing health care needs of Aberdeen and its nearby communities. Our facility provides a healing environment that focuses on patients and their families.
Our care team provides comprehensive services, including inpatient and outpatient surgery, therapy services, a women's center, pediatric care, cancer care, radiology, diagnostic testing, rehabilitation services and emergency care. The medical center has 48 beds and three floors of care.
Our services include:
Anesthesia
Cancer/oncology care
Cardiology/heart care
Colorectal screenings
Critical care
Delivery, recovery and postpartum services
Diabetes care
Diagnostic testing (echo, vascular, stress and ultrasound)
Emergency care
General surgery
Laboratory
On-site pharmacy
Outpatient infusion
Radiology (CT and MRI services)
Respiratory therapy
Therapy and rehabilitation
Find Classes & Events
We're committed to offering educational health and wellness events to the Aberdeen community. See all upcoming classes or sort by event category to find programs relevant to you.
Specialties
Anesthesiology

Cardiology

Cardiovascular & Thoracic Surgery

Critical Care

Interventional Cardiology

Interventional Radiology

Obstetrics & Gynecology

Vascular Surgery
Services
Colorectal Screenings

Direct Access Testing

Hospital Medicine

Inpatient Rehabilitation

Pregnancy

Pregnancy Support

Sports Nutrition
2905 Third Ave. SE
Aberdeen, South Dakota 57401
Sanford Aberdeen Medical Center Doctors
Accreditations
Bronze Safe Certified by Cribs for Kids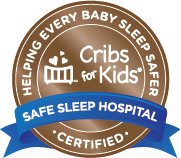 Every year in the United States, thousands of babies die suddenly and unexpectedly. These deaths are called SUID, which stands for "Sudden Unexpected Infant Death." At Sanford Aberdeen Medical Center, we've worked hard to ensure your infant will sleep safely during his or her stay.
Cribs for Kids gives hospital certification to programs that have successfully reduced hazardous risks to infants while they sleep. These hospitals are committed to exercising best practices and to education about infant sleep safety.
Keep your baby safe when you bring him or her home. Create a safe sleeping environment for your infant by taking these steps:
Always use a firm sleep surface that is covered by a fitted sheet. This could be a crib, bassinet, portable crib or play yard that conforms to the Consumer Product Safety Commission's safety standards.
Place babies on their backs to sleep, both at night and for naps.
Keep soft objects like pillows, blankets and toys out of the sleeping area.
Your baby should sleep without anyone (either a parent or anyone else) in his or her sleeping area.
Do not let your baby sleep in an adult bed, on a couch or on a chair.
Keep your baby's sleep area in the same room where you sleep for his or her first 6 to 12 months.