Comprehensive Surgical Care
General surgeons operate on conditions affecting the torso or abdomen. They are highly-skilled specialists with a wide range of medical expertise. If you need general surgery, choose Sanford Health for comprehensive procedures that put your needs first.
Our team is with you every step of the way, from planning your procedure to supporting you during your postoperative care. We'll partner with you to meet your health goals.
Our General Surgery Procedures
We offer these procedures:
Abdominal wall reconstruction
Acid reflux treatment
Esophagus surgery
Hernia repair
Trauma and emergency procedures
Surgical Care Focused on You
We provide advanced surgeries that give you better outcomes, safer procedures and a faster recovery. Many of our operations are minimally invasive procedures, also called laparoscopic or keyhole surgeries. Surgeons make a series of small cuts instead of one long cut to operate. They use surgical instruments and cameras on long rods to operate through the small cuts. These procedures lead to less scarring, reduced pain and a shortened recovery time.
Robotic surgery is a minimally invasive option that uses technology to operate. General surgeons work a computer-enhanced system that operates on the patient with robotic instruments. The physician gets a 3D, magnified view, so they can be more precise while working.
Whenever possible, you'll have same day surgery. These procedures eliminate the need for an overnight hospital stay. Instead, you'll come in the morning, have your procedure and go home later that day.
Find a General Surgery Clinic
At Sanford Health, you can get care close to home from surgeons you trust. Explore clinics in your area with general surgery services.
Find a Location
Learn More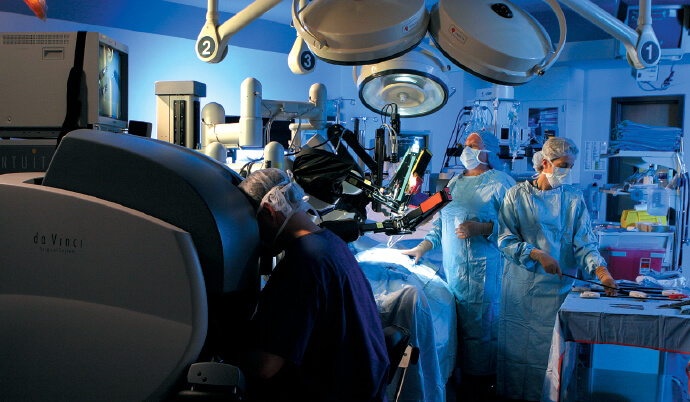 Robot Assistance Adds Surgical Precision
With robotic technology, you benefit from surgeons operating with greater precision and control than ever before. The most complex and delicate procedures can be performed with a minimally invasive approach. This means better results, greater comfort, less scarring, shorter recovery time and a faster-than-ever return to the life you love.