Bring Out Your Beauty
See yourself as you've always imagined. Visit Sanford Plastic Surgery for:
Body contouring
Facial rejuvenation
Non-surgical aesthetic procedures
Reconstructive surgery
Our surgeons take the time to understand your needs and goals, then tailor a plan best for you. You'll get a highly trained and experienced team providing the latest procedures.
Please call us if you would like to learn more about costs and payment options.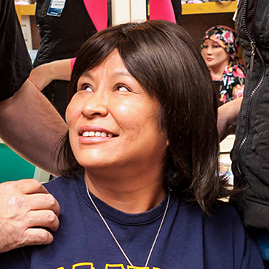 When Charlene Siddens discovered a lump in her breast, her plans included a mastectomy.
Sanford Health News
background-image

Nearly half of all Minnesotans receive a cancer diagnosis in their lifetime.

background-image

Nicole Block, a certified nurse practitioner, has joined the Sanford Worthington Clinic team and is seeing patients at the family practice clinic located on Diagonal Road.  She is joining the care team of Kevin Ree, D.O. Block received her undergraduate degree from Morningside College in Sioux City, Iowa.  She completed her graduate degree from South […]
Classes & Events
background-image

Mon 02/25/19 5:15 PM - Mon 02/25/19 6:15 PM
Sanford Bemidji Orthopedics Sports Medicine Center

background-image

Mon 02/25/19 8:00 AM - Tue 02/26/19 5:00 PM
Huron Regional Medical Center