Your Skin, Hair and Nail Care Experts
Visit Sanford Dermatology for non-surgical and surgical treatments for your skin, hair and nails.
We will identify your skin condition and educate you on what it means for your health. Then we'll create a comprehensive medical solution.
Our cosmetic specialists use a variety of medical and surgical treatments to keep your skin looking youthful.
Our services include:
Acne treatment
Eczema, dermatitis, and psoriasis treatment
Skin cancer screenings and treatment
Computerized mole mapping for melanoma
Skin rejuvenation
Eyelash growth
Laser hair removal
Services vary by location.
Our trained dermatologists and nurse practitioners are experienced in helping you from childhood to adulthood.
Find a dermatology specialist.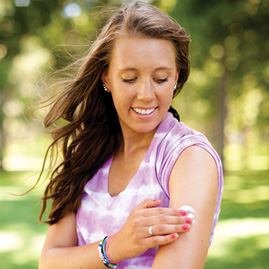 At age 15, Megan McManus never expected to fight melanoma, the most dangerous skin cancer. Today this 21-year-old survivor brings an important message that could save your skin - and your life.
Sanford Health News
background-image

"I didn't realize I was talking so softly before. Now I can speak out and be heard."

background-image

"They're going through such a rough time and just to make a child smile is what Santa is all about."