Sanford Children's Hospital Sioux Falls
NOTICE: Construction in Progress
A new Sanford Orthopedics Hospital is being constructed next to the Sanford Children's Hospital. Due to this construction, patients and visitors to the Sanford Children's Hospital and Sanford Children's Specialty Clinic should use new parking and entrance areas.
We highly encourage all patients, visitors and families to take advantage of our convenient valet services at the main entrance of the Sanford Children's Hospital. These services are available on Monday through Friday from 7:30 a.m. to 4:30 p.m.
Please refer to the provided map for parking areas, entrances and the valet location.
Sanford Children's Castle of Care Hospital in Sioux Falls offers a welcoming, vibrant place of healing for children. When your child needs services that go beyond general care, turn to Sanford Health.
We're here to provide you with expert pediatric specialty care close to home. Explore our full list of specialties below.
We believe imagination and play are as important to healing as our advanced technology and research. Sanford Children's Hospital provides the latest in care and services to every child we treat.
Sanford Children's Hospital is the only Children's Miracle Network Hospital in the region. Donate now.
Explore our holiday wish list.
Pediatric Inpatient Unit
At our pediatric inpatient unit, we believe in family-centered care. We'll partner with you to make sure your little one feels safe and comfortable. Our inpatient unit offers 24/7 access every day.
Our hospitalists and intensivists use a team approach to deliver the best care to our pediatric patients.
We offer:
Hematology and oncology
Nephrology
Neurology
Neurosurgery
Orthopedic surgery
Pediatric radiology
Physical therapy, occupational therapy and speech therapy
Surgery
Wound and ostomy care
Experts from all 35 of our pediatric specialties are readily available to care for children in the hospital.
Our Support Services
Sanford Children's Hospital in Sioux Falls provides the full scope of medical care. We employ specialists whose sole focus is on the comfort of the patient and their family. Support services make sure our hospital is a warm and friendly place for those we serve.
Our services include:
Child life specialists. These specialists empower patients and their families through programs, activities and support groups. We ease the concerns and fears of children and their family members.
Castle of Care school program. Our school program makes sure all school-age children stay on top of their education during their hospital stays.
Spiritual care team. Our dedicated chaplain offers a comforting presence and listening ear to patients and their families. You'll get emotional and spiritual support from our whole spiritual care team
Sanford-USD Pediatric Residency program. The Castle of Care is home to this prestigious residency program.
Miller Pediatric Intensive Care Unit
The Miller Pediatric Intensive Care Unit (PICU) offers the highest level of care to children in critical condition. We provide the most advanced care in the region.
The PICU also offers extracorporeal membrane oxygenation (ECMO) services. ECMO provides cardiac and respiratory support to patients whose heart or lungs are badly damaged.
ECMO treats patients at their bedside so they can heal and rest outside of the operating room. These services help patients with conditions such as:
Heart failure
Respiratory failure
Sepsis and other serious infections
Severe pneumonia
Trauma
For children with chronic or acute kidney failure, we have pediatric dialysis capabilities. Our pediatric kidney care includes hemodialysis and peritoneal dialysis.
Boekelheide Neonatal Intensive Care Unit
The Sanford Boekelheide Neonatal Intensive Care Unit (NICU) is the region's only Level IV NICU. We work to support the unique needs of each patient and their family. Our team helps families navigate the medical system and provides advanced care to our youngest patients.
We offer on-site, 24/7 support and care every day. Our team is specially trained to care for sick and premature infants.
Always connected with NicView
Sanford Children's provides a virtual way to connect families with their babies even when they're unable to be at their sides. NicView is a small camera system that provides secure, 24-hour video streaming, giving families real-time views to decrease their anxieties and promote strong bonds.
Specialties
Pediatric Allergy & Immunology

Pediatric Anesthesiology

Pediatric Critical Care

Pediatric Hematology

Pediatric Infectious Disease

Pediatric Neonatal-Perinatal Medicine

Pediatric Psychiatry

Pediatric Psychology

Pediatric Radiology

Pediatrics - Hospital
Services
Athletic Training

Bleeding Disorders

CHILD Services

Pediatric Diabetic Care

Pediatric ECMO

Pediatric Nutrition

Pediatric Therapy

Pediatric Trauma
1600 W. 22nd St.
Sioux Falls, South Dakota 57105
Sanford Children's Hospital Sioux Falls Doctors
Learn More
Make a Difference in Your Community
What happens when you donate to the Sanford Health Foundation? You're giving for children, families, communities and miracles. Learn how the Foundation supports the Sanford Children's Hospital in Sioux Falls and about the young patients who depend on our donors.
Accreditations
Gold Safe Certified by Cribs for Kids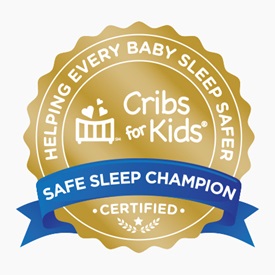 Every year in the United States, thousands of babies die suddenly and unexpectedly. These deaths are called SUID, which stands for "Sudden Unexpected Infant Death." At Sanford Children's Hospital Sioux Falls, we've worked hard to ensure your infant will sleep safely during his or her stay.
Cribs for Kids gives hospital certification to programs that have successfully reduced hazardous risks to infants while they sleep. These hospitals are committed to exercising best practices and to education about infant sleep safety.
Keep your baby safe when you bring him or her home. Create a safe sleeping environment for your infant by taking these steps:
Always use a firm sleep surface that is covered by a fitted sheet. This could be a crib, bassinet, portable crib or play yard that conforms to the Consumer Product Safety Commission's safety standards.
Place babies on their backs to sleep, both at night and for naps.
Keep soft objects like pillows, blankets and toys out of the sleeping area.
Your baby should sleep without anyone (either a parent or anyone else) in his or her sleeping area.
Do not let your baby sleep in an adult bed, on a couch or on a chair.
Keep your baby's sleep area in the same room where you sleep for his or her first 6 to 12 months.