Sanford Heart Hospital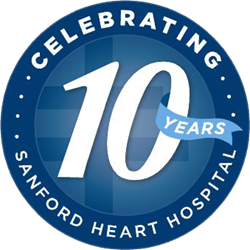 Sanford Heart Hospital in Sioux Falls, South Dakota, is designed with you at its center. Comfort, well-being, compassion, communication and personal choice will empower you along your heart care journey.
No matter what your heart needs – emergency care, outpatient testing, surgery, rehabilitation, catheterization, consultations with specialists – we're here for you.
We put the latest technology in the hands of highly skilled cardiologists to deliver expert care to you. Our team includes over 750 of the most experienced heart specialists and experts in the region.
We're proud to have offered over 30 years of award-winning heart care.
Heart Failure Clinic
Sanford Heart Hospital is home to the Heart Failure Clinic. Led by a heart failure board-certified cardiologist, our team is dedicated to helping you enjoy better health. We provide the support and care you need.
With better heart care, you'll enjoy a higher quality of life. We're here to help you live life with as few invasive medical interventions as possible.
Heart Rhythm Disorder Care
Our fellowship-trained heart rhythm specialists have additional training and board certification in cardiac electrophysiology. This specialty focuses on your heart's electrical system, which can cause heart rhythm disorders if it isn't working properly.
If you have a complex heart rhythm disorder, we'll be by your side from diagnosis through treatment. Get expert care from a compassionate, highly-trained team.
Specialties
Cardiac Electrophysiology

Cardiology

Cardiovascular & Thoracic Surgery

Interventional Cardiology

Thoracic Surgery
1301 W. 18th St.
Sioux Falls, South Dakota 57105
Sanford Heart Hospital Doctors