Primary Care Providers for the Whole Family
When you want your doctor to get to know your entire family, see Sanford Health's family medicine providers. We provide primary care for people of all ages, from infants through seniors.

Find a Family Medicine Doctor

Your family medicine team specializes in preventive care, plus diagnosing and managing chronic conditions. We offer:
Annual physicals
Baby wellness
Diabetes management
Disease management
Geriatrics care
Gynecology services
High blood pressure care
Obstetrical services
Sports physicals
Urgent care
Vaccinations
Find a Family Medicine Clinic

Many of our primary care locations also offer urgent care – for when you don't need the ER, but you need to see a doctor right away.

Find a Walk-In Clinic

When you need more specialized care, we coordinate with other Sanford Health providers trained in a variety of areas including pediatrics, cardiology, behavioral health, oncology and surgery. And they will have access to your treatment history through My Sanford Chart, our electronic medical record system.


When to See a Primary Care Provider
1. Preventive health care. A primary care provider works with you to identify health care concerns before they turn into serious health problems.
2. Medical home. Your primary care provider is part of your medical home team. They know your health history, health concerns and treatment goals to provide continuity of care among specialists, services and therapies to bring the entire picture together.
3. Access to an integrated health care system. For times when you need a specialist, your primary care provider can refer you to other Sanford Health providers in the specialty you need.
Find the Right Doctor for You

Take the Quiz
Answer a few questions about your wellness preferences and approach.
Get Your Results
Discover your patient personality and see providers with similar profiles.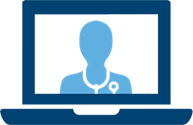 Find Your Doctor
Read the profiles to find the right provider and make your appointment.
Does Your Child Need a Sports Physical?
Most sports organizations require a sports physical before a student athlete can play. Sanford recommends getting one six months prior to the start of the season. During a sports physical, providers:
Check your child's basic health
Look for cardiovascular or lung conditions (these can go unnoticed without a trained professional looking for them)
Answer questions
Recommend stretching routines or sports gear
Check the healing of past injuries
Educate the student on how to spot sports injuries, particularly concussions and head injuries
Contact your family medicine doctor about a sports physical.
Family Medicine vs. Internal Medicine
You don't have to be part of a family to see a family physician. But how do you choose between a family doctor and an internist? Both are primary care physicians who focus on total health, wellness and disease prevention.

Choose a family medicine doctor if:
You want a primary care provider specializing in children and adults
You want one provider who can treat a variety of conditions, including sports injuries and women's health needs
You want one doctor to know and treat the whole family
You want prenatal care and primary care for you and your baby
Choose an internal medicine doctor if:
You are 18 or older
You want a specialist in adult primary care
You have been seeing a family care provider, but now you want a provider who only sees adults
You want a specialist in preventing, diagnosing and managing disease and chronic conditions
Sanford Health News
background-image

With early detection, colon cancer is 90% treatable

background-image

Sanford Health's dynamic approach to cancer care offers access to clinical trials
Classes & Events
background-image

Fri 03/24/23 10:15 AM - Fri 03/24/23 11:00 AM
Family Wellness Center

background-image

Sat 03/25/23 9:00 AM - Sat 03/25/23 11:00 AM
Webinar Aberdeen