Your Adulthood Primary Care Team
Get personalized, long-term care from a Sanford Health internal medicine provider. Our doctors provide primary care to everyone over 18 years old.
Adults who have a primary care provider get better medical care and more value for the money they spend on health care. They also tend to get more preventive and diagnostic screenings, leading to better health in the long run.
Comprehensive Adult Health Care
Your internal medicine team will work with you to give you an individualized care plan based on your needs and medical history. Internists focus on long-term care for adults by building a relationship with their patients.
Primary care providers:
Perform routine physicals
Give wellness checkups
Prescribe medications
Treat common and complex diseases
Refer patients to specialists
Internists provide general medical care. If you need highly specialized care, your primary care doctor will refer you to Sanford Health specialists. Internists work with specialists to make sure you get the best care possible.
Keeping You Healthy
Even if you don't have symptoms, you could still have a health problem or disease. Catch health issues early with regular screenings.
It can be hard to know what age to get screened for common diseases. The recommended timeline changes depending on your medical history and your family's predispositions. Your internist will help you decide when you should get screened for specific conditions.
Choose Sanford Health for our advanced genetic medicine programs. Your primary care provider will order the test and explain what the results mean for your health.
Conditions Internists Treat
Internal medicine providers practice general adult medicine. They can treat or manage acute and chronic medical issues.
See an internist for:
Cold and flu
Diabetes
Heart disease
High blood pressure
Thyroid disease
Gastrointestinal issues
Vascular disease
Vaccinations
Cholesterol screening and treatment
Men's health screenings and care
Women's health screenings and care
Rely on Sanford Health Internal Medicine to keep you healthy and to help you prevent future health issues.
Find an Internist
Sanford Health Internal Medicine provides primary care to adults. Your doctor will work with you to create a long-term health plan personalized to your needs.
Find the Right Doctor for You

Take the Quiz
Answer a few questions about your wellness preferences and approach.
Get Your Results
Discover your patient personality and see providers with similar profiles.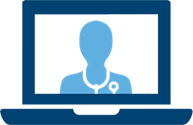 Find Your Doctor
Read the profiles to find the right provider and make your appointment.
Eric Van Dusen, a paramedic, got a heart screening at a professional conference that likely saved his life.
With genetic counseling, Jessica Pickett discovered her high cholesterol wasn't from lifestyle choices - it was her genetics.
Sanford Health News
background-image

Linda Bates of Fargo provides companionship to patients who request visitors

background-image

National ad awards recognize Sanford Health's impact on delivering quality care to all
Classes & Events
background-image

Thu 06/01/23 2:00 PM - Thu 06/01/23 3:00 PM
CHILD Services

background-image

Thu 06/01/23 4:30 PM - Thu 06/01/23 7:00 PM
Ramkota Hotel Exhibit Hall