Amazing Care for Amazing Kids
Sanford Children's in Sioux Falls offers primary and specialty pediatric care. Our team of residency-trained and board-certified providers offers care to pediatric patients from newborns to young adults close to home.
Pediatric Primary Care
Sanford Children's offers six pediatric care clinics across the Sioux Falls, South Dakota, area.
We provide:
Routine well child checks
Care for acute, chronic and complex conditions
Sports physicals
Vaccinations
Education and parenting support
Explore all Pediatric Specialties
Kids Rule this Castle
The Sanford Children's Castle of Care is South Dakota's only hospital designed just for kids. We're here to provide the best care possible to your child close to home. You don't need to travel to get care from pediatric experts in a kid-friendly environment.
Sanford Children's features:
Over 135 local providers in 35 pediatric specialties
400 support team members, including nurses specially trained in pediatric care, child life specialists and more
Outreach care to 11 communities across our region
Our location is the only Children's Miracle Network Hospital in the region. We're also home to the only pediatric residency program in the state.
Explore All Pediatric Specialties
Boekelheide Neonatal Intensive Care Unit
The Sanford Children's Boekelheide Neonatal Intensive Care Unit (NICU) is the region's only Level IV NICU. We're certified to offer the highest level of care to infants.
We offer:
Private suites for families. Each suite has a Giraffe OmniBed, which is specially built to care for critically ill and premature newborns.
A whole team working for you. Partner with Child Life specialists, social workers and case managers to get the best care for your infant.
Our Sanford AirMed team can transport infants to our facility fast when they need lifesaving care.
Always connected with NicView
Sanford Children's provides a virtual way to connect families with their babies even when they're unable to be at their sides. NicView is a small camera system that provides secure, 24-hour video streaming, giving families real-time views to decrease their anxieties and promote strong bonds.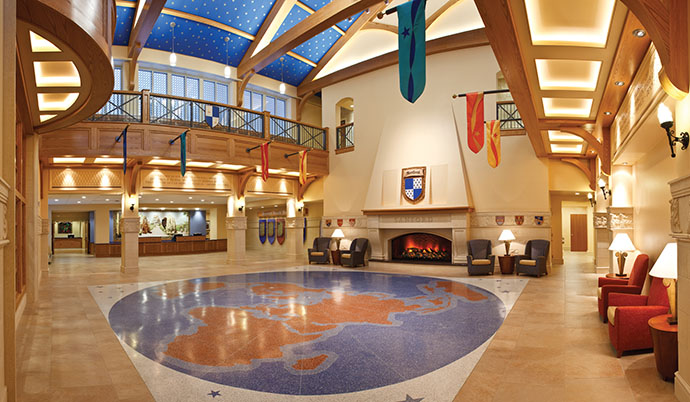 Miller Pediatric Intensive Care Unit
Our in-house PICU offers 24/7 lifesaving care to kids.
Instead of using medical equipment designed for adults, our PICU has special pediatric equipment. We're proud to have pediatric extracorporeal membrane oxygenation (ECMO) capabilities. This is a lung and heart bypass machine made for critically ill or injured patients ages 25 or younger. Our ECMO-trained physicians, nurses and technicians offer 24/7 patient monitoring.
Our PICU also provides pediatric dialysis. We have two board-certified pediatric nephrologists on our team.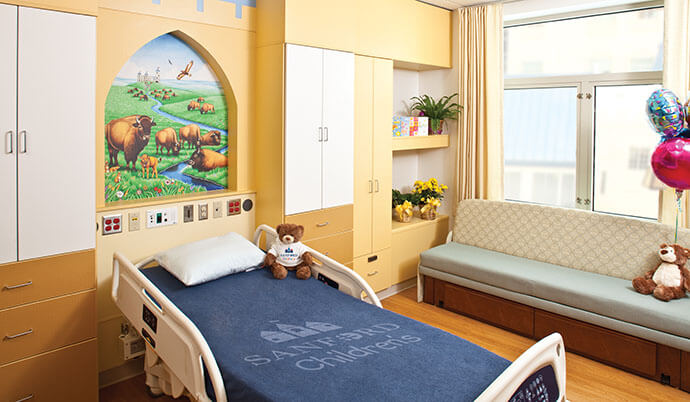 Pediatric Inpatient Unit
The Sanford Children's Castle of Care Hospital in Sioux Falls is here for the health of all children. The hospital includes:
Gassen Radiology Center
Our experts tailor each procedure to use the minimum amount of radiation needed to complete an exam or treatment.
Child Life Specialists
Child life specialists help children cope with emotional, social and developmental changes caused by their illness, injury or hospitalization.
Castle of Care School Program
We help kids recover and stay active in a school-type setting. Our school program team collaborates with school districts in the region to bridge the gap between home and hospital.
Pediatric Residency Program
Eighteen residents round at the Sanford Children's Hospital during the three-year program.
Spiritual Care Team
Our dedicated pediatric chaplain offers a comforting presence and listening ear for patients and their families.
Pediatric Specialty Care
The Castle of Care is a local hospital. All our pediatric specialists are full-time Sanford Children's providers. You'll work with specialists who live in your community and offer care close to home.
If your child's health needs go beyond general care, our team is here to help. With over 35 pediatric specialties, we offer the highest level of care in the region.
Learn more about our specialty care.
Find a Pediatric Specialty Care Provider
Lennon Sabo, born at 28 weeks, survived hydrops and spent nearly 4 months in NICU.
Emergency surgery and collaboration of specialists helped save little girl's life.
Two-year-old Abi's unusual bruising led to a call to her pediatrician – which led to same-day treatment at the Sanford Children's Castle of Care.