Fighting Cancer with Radiation Treatments
As part of your cancer treatment plan, your doctor may recommend radiation treatment.
You will meet with a radiation oncologist, a doctor specially trained to deliver radiation treatments. They will work with you and your cancer care team to develop a treatment plan.
We're here to support you, answer your questions and make sure you get the best cancer care from your first appointment onward.
What is Radiation Therapy?
Radiation therapy targets cancerous tumors, killing or damaging them so they can't grow, multiply or spread. Your radiation oncology team at Sanford Health offers the latest technologies to prescribe and deliver this type of treatment.
Learn about how radiation treatment helps to fight cancer, including:
Why to get radiation
What to expect from radiation
Common side effects of radiation
Your radiation therapy team
Radiation Treatments
Your cancer care team will discuss your options and recommend a radiation treatment plan that is right for you and your needs. Learn more about different types of radiation therapy:
Radiosurgery. Doctors can pinpoint and deliver a one-time high dose of radiation to the tumor's exact location through stereotactic radiosurgery. This can be a good option for patients with tumors deep inside the body or brain and is often used when surgery is not an option.
Brachytherapy. This radiation treatment is delivered directly into your body, placed as close to the cancer as possible through an implant filled with radioactive materials. 
External beam therapy. Delivered by a linear accelerator, this form of radiation uses a beam of radiation to target the tumor site.
Intraoperative radiation therapy (IORT). This technology allows delivery of radiation directly to the site during surgery. We offer IORT in Sioux Falls, South Dakota.
Learn More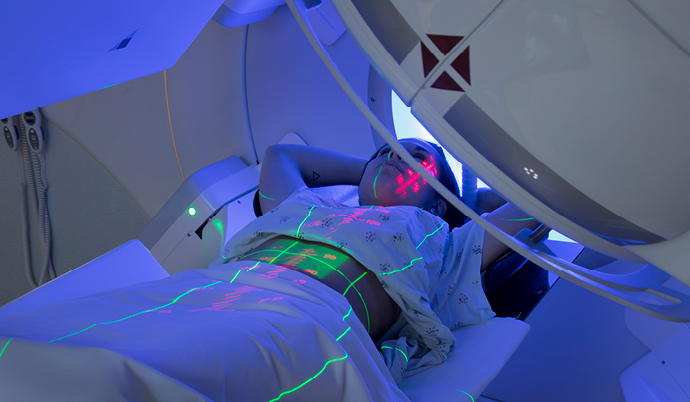 Deep Inspiration Breath Hold
There's a new technique for patients getting radiation treatment to their chest or breast. Deep inspiration breath holds show promise in protecting the heart of patients during these procedures. Without this technique, the heart could get hit with a significant dose of radiation during treatment. Radiation can lead to future cardiac problems. By holding your breath using the deep breath technique, you'll keep your chest still during the procedure, which minimizes the amount of radiation that hits your heart. This method is most beneficial for women with cancer in the left breast, but could also help patients with Hodgkin lymphoma, lung cancer and pancreatic cancer.
Sanford Health News
background-image

Pentagon and Fieldhouse mark anniversary as Sanford Sports continues to grow community impact

background-image

Magazine recognizes leadership of virtual care and medical education initiatives
Classes & Events
background-image

Fri 12/09/22 7:45 AM - Fri 12/09/22 4:00 PM
4111 Technology Drive NW

background-image

Fri 12/09/22 9:15 AM - Fri 12/09/22 1:30 PM
Sanford Clear Lake Medical Center