Meet Your Complete Cancer Care Team
Your Sanford Cancer Center oncology team specializes in diagnosing, treating and caring for you from detection to survivorship.
You can expect:
Visits, treatment, monitoring, lab testing, and follow-up exams through survivorship
Chemotherapy, targeted biotherapy or immunotherapy, as appropriate to your specific case
Support for preventing and minimizing side effects such as fatigue, pain, dehydration and eating problems
Access to the most current clinical trials
Support from your nurses including assessments, lab results monitoring, and ongoing health education and communication
Ongoing access to cancer care staff for emotional, financial and everyday support throughout your care
Learn More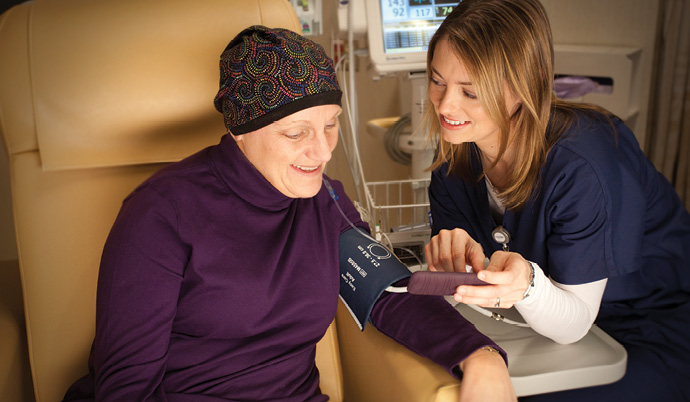 What to Expect from Infusion Treatments
Infusion treatments are cancer-fighting therapies delivered intravenously to target your specific cancer. What to expect at your infusion center:
Private, comfortable spaces dedicated to best support your needs while you get these therapies.
Trained oncology nurses who administer your therapies and are available throughout your stay.
Room to bring a member of your support team with you. Feel free to bring electronics or other activities to make your stay as enjoyable as possible.
Sanford Health News
background-image

After 34-year-old was diagnosed with colon cancer, her mom was diagnosed, too

background-image

Pharmacogenetic testing provided at no cost to veterans will help tailor care.
Classes & Events
background-image

Wed 03/27/19 6:30 PM - Wed 03/27/19 8:30 PM
Sioux Falls

background-image

Wed 03/27/19 8:30 AM - Wed 03/27/19 4:00 PM
Active Generations