Meet Your Cancer Care Team Leader
A medical oncologist specializes in providing medical care to cancer patients. Your oncologist is your main health care provider when you have cancer. If you think of your cancer care doctors as a team, your medical oncologist is the team captain. Learn more about your cancer treatment team.
Your medical oncologist specializes in treating cancer with medicine, including chemotherapy. This doctor works with oncologic surgeons, radiation oncologists, nurses and other specialists.
Find an Oncologist Close to Home
Get expert care carefully attuned to your type of cancer and your unique medical needs. You'll find specialized treatment and emotional support from your medical oncologist.
Sanford Cancer is Here to Help
Here's what you can expect from your Sanford Cancer team:
Answers to all of your questions
Help through all the steps you need to take before, during and after treatment
Communication of what tests you need and the results of those tests
Guidance in making treatment decisions to help prepare you and your loved ones for what's ahead
Support for coping with the stresses of cancer
Personalized diagnosis, treatment and care from detection to

survivorship
Learn More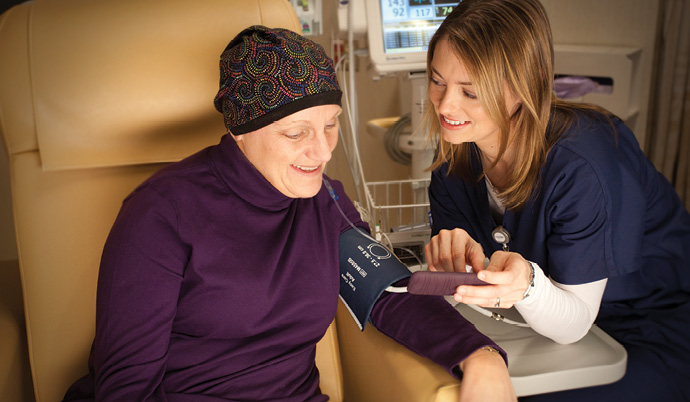 What to Expect from Infusion Treatments
Infusion treatments are cancer-fighting therapies delivered intravenously to target your specific cancer. What to expect at your infusion center:
Private, comfortable spaces dedicated to best support your needs while you get these therapies.
Trained oncology nurses who administer your therapies and are available throughout your stay.
Room to bring a member of your support team with you. Feel free to bring electronics or other activities to make your stay as enjoyable as possible.
Sanford Health News
background-image

Executive's work combines health care for women, children, cancer patients

background-image

Kaley Maassen, 11, had been seeing team since birth — then had to add oncologist
Classes & Events
background-image

Sat 08/24/19 12:00 PM - Sat 08/24/19 6:00 PM
UND Center of Family Medicine Building

background-image

Sat 08/24/19 2:00 PM - Sat 08/24/19 4:30 PM
Sioux Falls