Your Ophthalmology Specialists
Come to Sanford Ophthalmology for total eye care. Our services go beyond eye exams to diagnose and treat eye conditions. We provide both surgical and non-surgical treatment options depending on your eye disease. Put life back into focus with our ophthalmology services.
Ophthalmologists differ from optometrists and opticians in providing comprehensive eye care. Optometrists can detect eye conditions or injuries, but refer patients to ophthalmologists for treatment.
We will work with you to battle vision-threatening conditions. Our ophthalmologists are dedicated to stopping and reversing vision reduction. If you need surgery, you can get long-lasting results from our eye surgeons. We also work to increase your comfort during and after surgery. Using advanced technology and surgical techniques, you'll have a quick recovery and see vision changes in no time.
More than Eye Exams
Sanford Health ophthalmologists are surgeons with specialized training in the latest eye care and eye surgery techniques.
We offer:
Cataract, retina, glaucoma and eyelid surgery
Diabetic eye and macular degeneration treatment (including eye injections)
Diagnosing and treating a variety of eye disorders such as glaucoma and cataracts
Pediatric eye care and general ophthalmology
Performing complex eye surgery such as corneal implants and transplants and retinal surgery
Prescribing glasses or contact lenses
See the world more clearly with help from a Sanford Health ophthalmologist. We have complete eye care services to correct your eye disease medically or through surgery.
Find an Eye Surgeon
Turn to an ophthalmologist for comprehensive eye care. Schedule an appointment today to see better tomorrow.
Find an Eye Clinic
Sanford Health has locations around the Upper Midwest to help you battle vision-reducing conditions or injuries. Look for a clinic near you.
Sanford Ophthalmology is proud to offer LASIK eye surgery in Sioux Falls, South Dakota.
Schedule a consultation at (605) 328-9200. Learn more about LASIK eye surgery.
Learn More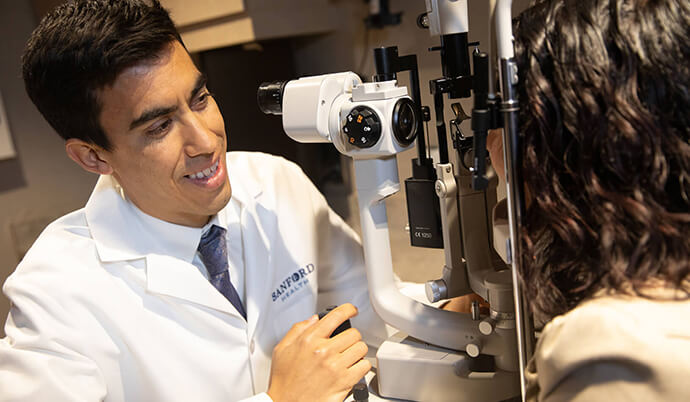 An eye for the Sioux Falls community: Bringing LASIK to Sanford Health
Dr. Andrew Ollerton is a laser eye surgeon at Sanford Health who reshapes the eyes of patients through LASIK. The procedure can correct common refractive errors such as nearsightedness, farsightedness and astigmatism.
Sanford Health News
background-image

Environment, fragrance sensitivity can be factors in seasonal allergy symptoms

background-image

Good Samaritan Society's in-home therapy helps keep people out of the hospital
Classes & Events
background-image

Mon 12/04/23 8:00 AM - Mon 12/04/23 5:00 PM
Sanford USD Medical Center Meeting Room A

background-image

Mon 12/04/23 8:30 AM - Mon 12/04/23 10:30 AM
Sanford Health Wahpeton Clinic