LASIK Eye Surgery at Sanford Health
LASIK eye surgery can correct conditions like nearsightedness, farsightedness and astigmatism. After surgery, you may no longer depend on glasses or contacts and their daily annoyances. Wake up to clearer vision every day with LASIK surgery.
Choose Sanford Health for LASIK surgery in Sioux Falls, South Dakota.
What is LASIK Eye Correction?
LASIK is a common surgery that can correct a wide range of vision problems.
For people who can't see clearly without glasses or contact lenses, light doesn't focus on the right spot inside the eye. LASIK reshapes the cornea, the clear tissue on the front of the eye, so that the light is focused more appropriately.
Benefits include:
Minimal discomfort and quick visual recovery
Less dependence on glasses or contacts
High precision
Little chance of corneal scarring
LASIK takes less than 30 minutes. It's a safe procedure that you'll recover from quickly. Most patients go back to work within a day or two of the operation.
After the surgery, you'll see results immediately and your vision will continue to improve over time.
Why choose Sanford for LASIK?
If you choose LASIK surgery at Sanford Health, you'll benefit from our personalized approach to eye care. We tailor your care to your personal and medical background to find the treatment that's right for you.
Often with LASIK, you may meet your surgeon only on the day of surgery and never see them after. At Sanford Health, we build a relationship with you before surgery and follow you closely afterward. We'll check in frequently to monitor your vision progress.
Ready to see clearly?
Call to Schedule your Free Consultation
Learn More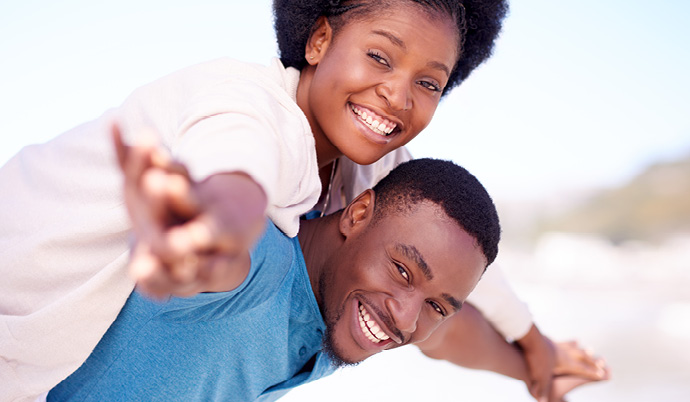 LASIK at Sanford Health
LASIK eye surgery is now available at the Sanford USD Medical Center in Sioux Falls, South Dakota. We put state-of-the-art equipment in the hands of experts, all while offering LASIK at a competitive price. Our team will be with you every step of the way, answering your questions and offering compassionate care. Call (605) 328-9200 to schedule a free consultation.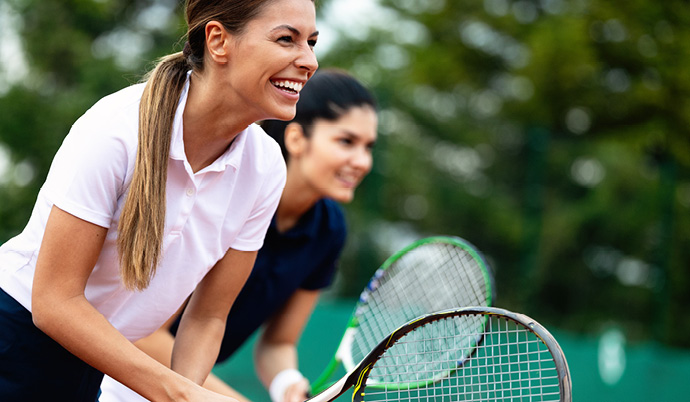 LASIK Prices
We offer LASIK vision correction surgeries using the latest technology to restore your vision at an affordable cost. Our competitive pricing includes preoperative appointments, the procedure and an entire year of postoperative checkups.
Interested in LASIK?
You don't need a referral to get LASIK at Sanford Health. You can call (605) 328-9200 now to schedule a free consultation.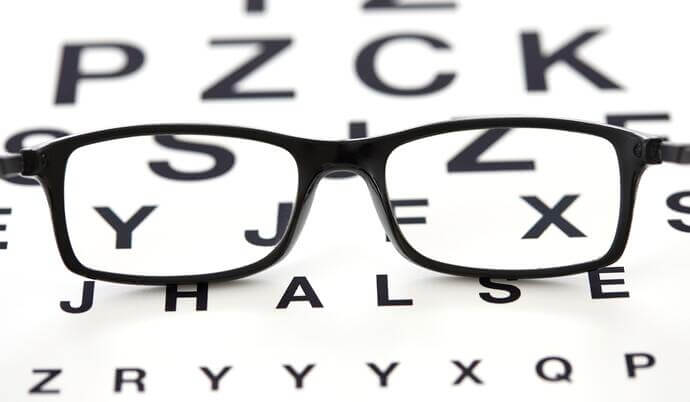 Life in Focus
Sanford Health first started offering LASIK vision corrective surgery in 2019. Meet our laser eye surgeon and learn what sets LASIK apart at Sanford Health. Read more.
LASIK FAQ
What can I expect before laser eye surgery?
Free Consultation
Identify the best laser eye surgery options for your needs during a free screening consultation. If the consultation finds that you may be a candidate for LASIK, your next step includes a full eye exam with an ophthalmologist to discuss all of your options.
Even if LASIK is not recommended for you, your doctor will work with you on the best method for your vision correction. Other options may include cataract and implant surgery.
Comprehensive Eye Exam
If you're interested in LASIK, you'll meet with Dr. Andrew Ollerton, an ophthalmologist and laser eye surgeon at Sanford Health. He will provide a comprehensive eye exam, review your medical and ocular history, discuss your vision goals and take a variety of eye measurements. This appointment takes about two hours and rules out reasons that would prevent you from safely having laser vision correction.
Once your surgery is scheduled, you'll complete LASIK at Sanford USD Medical Center. This is an outpatient procedure; you'll go home the same day.
What happens during LASIK?
LASIK is a procedure that reshapes your cornea to correct vision issues. You'll receive medication to help you relax during surgery and drops to numb your eye.
Your doctor will reshape your cornea with a computer-controlled laser.
What are some other options?
Refractive lens exchange is another eye surgery. It fixes vision issues by replacing your lens with an artificial one and is a quick and painless procedure.
Does laser eye surgery hurt?
Laser eye surgery itself is safe, quick and painless. During the procedure, your eye is numbed with topical drops. The laser takes less than 15 seconds, and the procedure is done in minutes.
You may experience discomfort in your eye for the first 24 hours of recovery, but your surgeon will help you manage the pain.
How much does LASIK cost?
More providers mean competitive costs – and better prices for your LASIK procedures. You can get a free consultation for LASIK at Sanford Health.
Because LASIK eye surgery is considered an elective procedure, health insurance might not cover the full cost of your surgery. Contact your insurance company to see what your vision benefits cover. They may cover part of the cost or offer financing options.
How long does it take to recover from LASIK?
Recovery from LASIK eye surgery is quick. You can expect to go back to work within a day or two. Typically, you'll see your vision improve within days, and it continues to improve over time while your eye recovers.
Sanford Eye Center and Optical in Sioux Falls, South Dakota, offers both optometry and ophthalmology services, including LASIK eye surgery.
Your eye care consultations and exams will be at our clinic, while your surgery will be at Sanford USD Medical Center.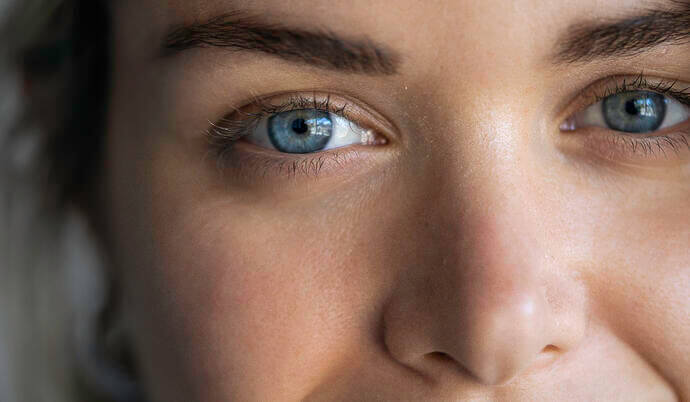 "Dr. Ollerton was a fantastic surgeon. I had absolutely no pain at all. Every one on the care team made me feel comfortable the whole time. As this was my first eye surgery I was very nervous. They made sure I was very comfortable .I would like to thank everyone from the time I entered to the time I left. You guys are the very best."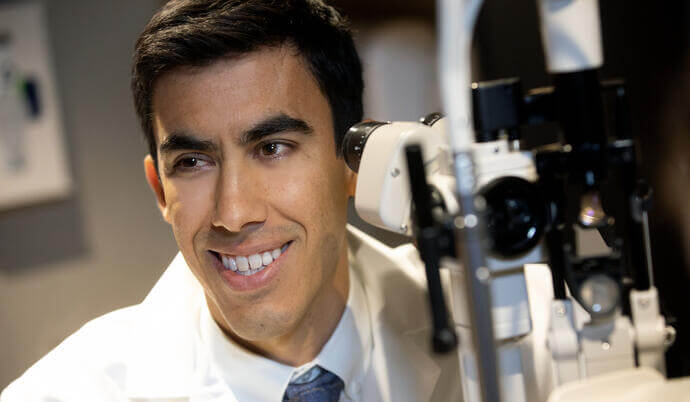 "Dr. Ollerton always takes time to explain things clearly before, during and after surgery and appointments. He is kind and considerate to both the patient and the staff working with him. I would highly recommend his services!"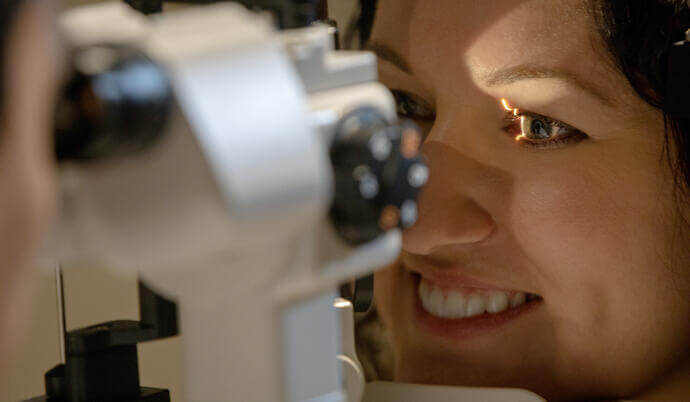 "Nurses, Crystal and Rosemary, were outstanding. They were very experienced and knowledgeable. Dr. Ollerton did a great job on my eye surgery."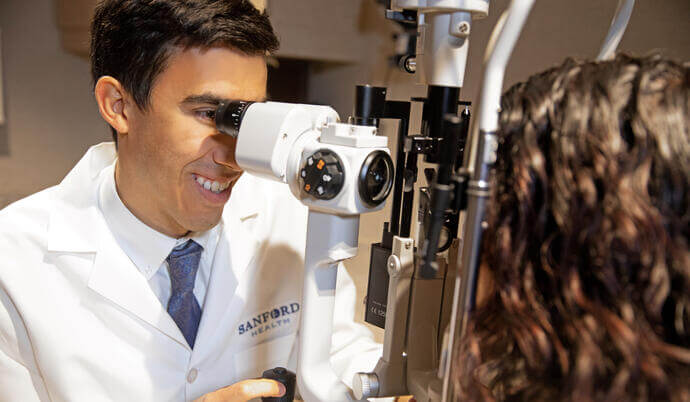 "Dr. Ollerton was fantastic. Very patient with me and my anxiety. Explained the procedure thoroughly."
Meet Andrew Ollerton, MD
Dr. Ollerton is a board-certified and fellowship-trained ophthalmologist who specializes in cornea care. He treats diseases of the cornea and performs eye surgery, including LASIK and cataract surgery.