Developing Exceptional Physicians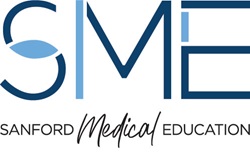 Sanford Health is committed to excellence in our medical education programs. We're proud to be a major teaching site for medical residency and fellowship programs.
Every year, we train over 300 residents and fellows, as well as nearly 500 medical students.
Our programs give developing physicians the resources they need to thrive and build lasting relationships with experts in their field. If you're a student looking to gain hands-on clinical experience, our medical education programs are for you.
Advancing medical education is one of our initiatives supported by a $300 million gift from philanthropist Denny Sanford. Recruitment and retention of health care professionals can be challenging in rural areas. This gift enables us to double our graduate education opportunities and expand our recruitment and retention programs.
Medical Education at Sanford Health
Training the physicians and medical experts of tomorrow is no small task. Sanford Health is working to shape the future of health care with exceptional educational opportunities that connect residents, fellows and students to knowledgeable mentors and advanced technologies. We're proud to continue our century-long commitment to education.
Residency Programs
Family Medicine Residency Program
General Surgery Residency Program
Internal Medicine Residency Program
Neurology Residency Program
Orthopedic Surgery Residency Program
Pathology Residency Program
Pediatrics Residency Program
Podiatric Residency Program
Transitional Year Residency Program
Fellowship Programs
Cardiovascular Disease Fellowship
Train at the Sanford Heart Hospital in Sioux Falls, South Dakota. The Cardiovascular Disease Fellowship exposes fellows to a variety of clinical cases, procedures and educational conferences. This program provides training in all required areas of cardiology, including noninvasive cardiology and invasive diagnostic procedures.
Hematology and Medical Oncology Fellowship
Formed through a unique partnership between Sanford Health and the University of North Dakota School of Medicine & Health Sciences, the Hematology and Medical Oncology Fellowship is a comprehensive three-year program. Graduates will be board eligible in both medical oncology and hematology and can observe and participate in a variety of rotations.
Interventional Cardiology Fellowship
The University of South Dakota Sanford School of Medicine's one-year Interventional Cardiology Fellowship is accredited by the Accreditation Council for Graduate Medical Education. Fellows will experience significant, complex caseloads and graduate with the ability to practice in any setting, including in rural communities.
Internship Consortium
Sanford Health-Psychology Internship Consortium
Our mission is to train and prepare future psychologists to provide exceptional behavioral health care in underserved rural communities throughout the Midwest. We've created a pathway within Sanford Health to help pre-doctoral interns become licensed and independently functioning psychologists.
The Sanford Health-Psychology Internship Consortium includes three behavioral health training sites in the Fargo and Moorhead region. The training program is a yearlong, full-time, 2,000-hour doctoral training experience.
Training the Next Generation of Physicians
Our training programs create a sustainable pathway for physicians to start, continue and thrive in their careers at Sanford Health. After finishing their medical education, many of our residents choose to practice in the communities we serve, helping us bring the latest medical care to patients no matter where they live.
About Sanford Health
Sanford Health is one of the largest health systems in the United States. Our organization is committed to providing an integrated delivery of care to promote wellness in the communities we serve.
As a resident, fellow or medical student training at Sanford Health, you'll also have access to programs and opportunities with:
Sanford Health's Office of Diversity, Equity and Inclusion
Sanford SAFE and the Patient Safety Collaborative
Together with our primary academic partners, the University of North Dakota School of Medicine & Health Sciences and the University of South Dakota Sanford School of Medicine, Sanford Health is committed to building a stronger physician workforce. We're leading the next generation of health care professionals.
Sanford Health News
background-image

Doctors learn from different cultures during rotations in Costa Rica

background-image

New RNs learn from mentors and peers while gaining confidence and camaraderie
Classes & Events
background-image

Thu 09/21/23 6:30 PM - Thu 09/21/23 9:00 PM
Sanford South University

background-image

Fri 09/22/23 8:00 AM - Fri 09/22/23 4:30 PM
Sanford Center