Hear Your Best
Hearing is vital to communication and socialization. You don't have to suffer through hearing loss. Hear what you've been missing with help from Sanford Health's expert audiologists.
Sanford Health offers hearing testing, diagnosis and treatment for patients of all ages. We provide care and support for children to senior citizens. Come to Sanford Health to slow hearing loss, prevent further damage and improve your hearing ability.
Don't delay if you're worried about your hearing. Find an audiologist or a hearing clinic below to schedule an appointment.
Our services include:
Audiology testing: For adults, we conduct hearing tests in a soundproof room. You will wear headphones and indicate to the tester whenever you hear a tone in an ear.
Pediatric hearing testing: Hearing problems can go undiagnosed in newborns for over a year. Sanford Health tests all infants at birth for hearing loss. We can also check a child's hearing using similar methods to adult tests. We offer alternative testing for children who can't be tested with the usual methods.
Hearing aids: Improve your hearing and speech with hearing aids. These electronic, battery-operated devices amplify sounds for those with hearing loss.
ABR testing: Auditory brainstem response is a test that uses wires attached to a child's scalp to see how their hearing nerve pathways respond to sounds. It is a safe and painless test.
Hearing conservation: We'll work with you to identify a plan to slow or prevent further hearing loss. Plans includes monitoring noise exposure, choosing ear protection gear and scheduling later hearing tests.
Cochlear implant consults: Cochlear implants can help people with little to no hearing abilities. A cochlear implant is surgically implanted and doesn't restore hearing, but gives a person a sense of sound. Consult a Sanford Health audiologist to see if a cochlear implant can improve your hearing. Learn more.
Our audiology services are just one part of our larger health care system. When you visit Sanford Health hearing specialists, they will connect with your primary care provider to discuss your next steps.
Learn More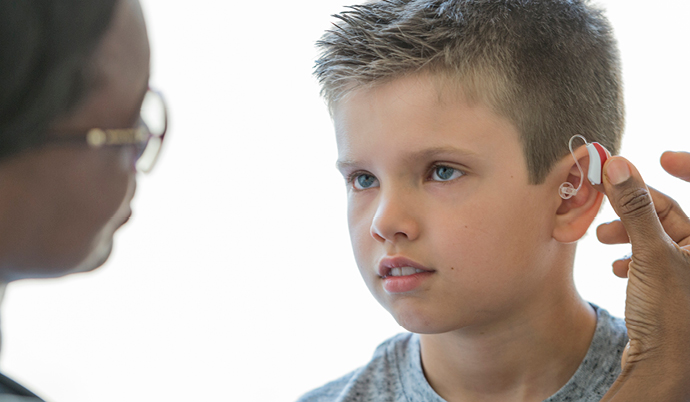 Sanford Children's Hearing Support Clinic
Sanford Children's Hearing Support Clinic in Sioux Falls evaluates newborns who have not passed their initial hearing screenings or children with hearing loss who have never had a genetic evaluation. The clinic is held monthly. It includes a team of specialists to address the cause of your child's hearing loss and provide you and your doctor with recommendations for treatment and support services.
To learn more about the Hearing Support Clinic in Sioux Falls, call the Sanford Children's Specialty Clinic at (605) 312-1000. Or visit Sanford Children's Ear, Nose and Throat.
Sanford Health News
background-image

Snowstorm temporarily grounded Sanford AirMed before baby Ayce could fly to Fargo

background-image

Sonja Grave joined hospice staff as a housekeeper to spend more time with mom
Classes & Events
background-image

Sun 10/01/23 1:30 PM - Sun 10/01/23 2:30 PM
Sanford Family Wellness Center

background-image

Sun 10/01/23 2:45 PM - Sun 10/01/23 3:45 PM
Sanford Family Wellness Center