Sanford Health Dell Rapids Orchard Hills
Come and enjoy Orchard Hills! We are located in the peaceful, small city of Dell Rapids, South Dakota, just 20 minutes north of Sioux Falls. Our senior living apartments can accommodate 24 residents and have been thoughtfully designed with your best interests in mind.
Feel right at home in a refreshing atmosphere with a perfect blend of independence and socialization. Enjoy a one- or two-bedroom apartment that features all the comforts of home without the burden of maintenance and upkeep.
Cherish your independence and security.
Our assisted living apartments were built especially for those who need some assistance but not full-time nursing care.
With a smaller resident population, individualized care for each resident is a top priority. Our professional team of staff members assesses your needs upon admission and on an ongoing basis to make sure your needs are met.
Convenient amenities
Orchard Hills has a warm and inviting Main Street where residents and visitors may smell homemade meals, fresh bread, or popcorn while walking through. Off Main Street, you'll find the fireplace and chapel room where it is common to hear an organ playing. The ice cream parlor is a gathering spot for residents and guests to indulge in soft serve ice cream any day of the week. The onsite beauty salon offers a nearby place for residents to stay looking their best and the private dining room offers a space for families to eat together.

Contact us today to receive a free packet of information about Orchard Hills or schedule a visit.
200 W. 10th St.
Dell Rapids, South Dakota 57022
Orchard Hills Senior Living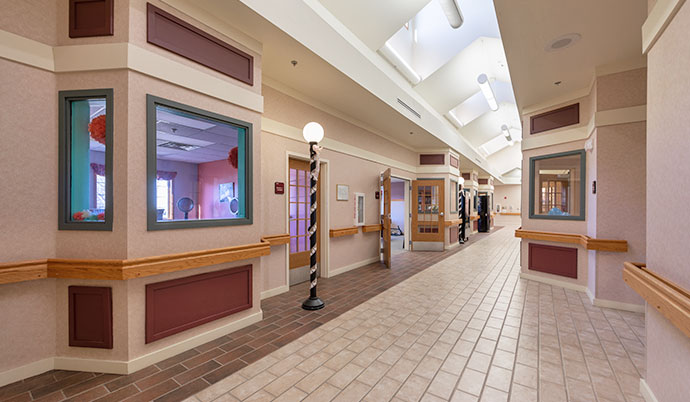 Main Street
Welcome to our Main Street. This warm and inviting area allows for easy access to our fireplace and chapel room, an ice cream parlor, a beauty shop and a private dining room.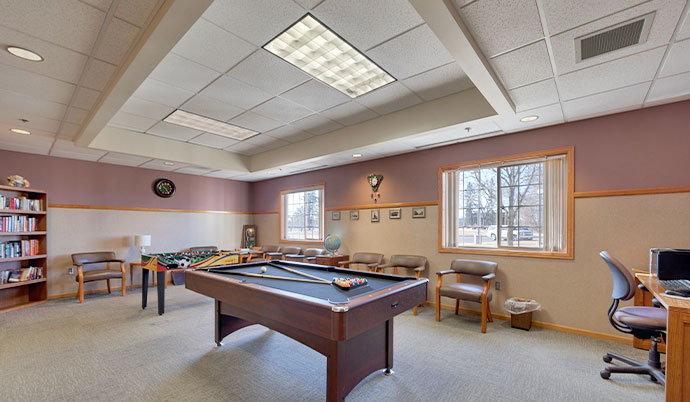 Game Room
Enjoy a game of pool or foosball, spend time reading or use the computer.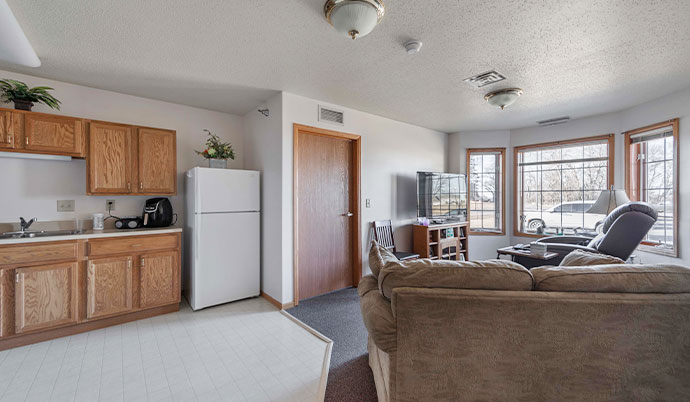 Full-size Kitchen
Each apartment features a full-size kitchen with plenty of cabinet storage and counter space.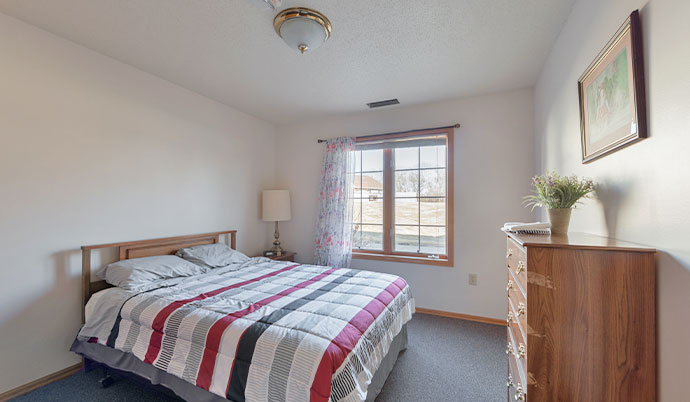 Apartment Bedroom
Each apartment bedroom is bright and spacious with ample closet space.