Nervous System Specialists
Brain and spine conditions require focus, experience and a team of specialists. At Sanford Health, we have brain and spine specialists at locations throughout North Dakota, South Dakota and Minnesota.
You'll work with experts — from neurologists, neuropsychologists and neurosurgeons to pain management specialists and more. Our brain and spine team focuses on finding the right treatment for you.
Why Choose Sanford Health for Neurological Conditions?
At Sanford Health, you'll find:
Intensive care: In our neurocritical care intensive care units (neuro ICUs), you will find expert doctors and nurses. Our providers are devoted to careful monitoring and effective treatment for patients with severe brain and spine conditions.

Comprehensive neurology care: We have the Dakotas' largest team of neurologists. They offer expert care for neurological conditions, including movement disorders, sleep disorders and more.

Support services: When you're treated for a brain or spine condition, you often need to see many different specialists. Our nurse case managers work with you and your family to make scheduling appointments and managing treatment easier. Social workers can also connect you with needed resources, such as financial assistance or counseling. Chaplains provide spiritual care to people of all religions.

Convenience: We want treatment to be as easy for you as possible. We work with doctors in community hospitals to help patients get care closer to where they live, whenever possible.
Treatment for the Most Serious Conditions
Several of our locations provide treatment for the most severe brain and spinal cord trauma and strokes:
Certified trauma care: Sanford Medical Center Fargo is a Level I trauma center, ready at any hour to treat patients with severe brain or spinal cord injuries.

Designated stroke center: Sanford Medical Center Fargo and Sanford USD Medical Center are among a select group of hospitals in the U.S. designated as Comprehensive Stroke Centers. They are the only designated stroke centers in their respective states. These locations offer lifesaving treatment for the most serious stroke cases.
When you're referred to us, we will coordinate your care. Our team approach ensures you see the specialists you need, especially for complex issues.
Find a Brain and Spine Location
Our brain and spine doctors practice throughout the Dakotas and Minnesota. Schedule an appointment with one of our nervous system specialists today.
Find a Location
In the middle of the night, Sharon Solum woke up and realized she couldn't get up. Her barking dog alerted her that she was having a stroke.
Deb Warner survived a ruptured brain aneurysm and defied the odds. Learn how her neurocritical care team helped her beat a 10% survival rate.
Joan Patterson, 86, found Parkinson's was slowly taking her body and her voice. Sanford Health helped her speak up again.
MAZOR Robot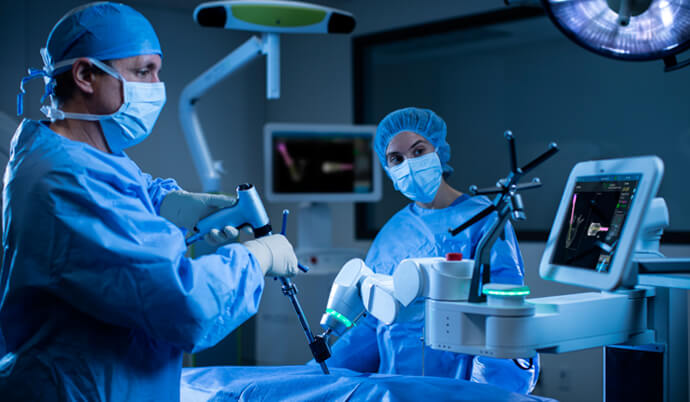 Spinal Fusion Procedures Guided by Robotic Technology
Our innovative robotic guidance technology gives your surgeon a visualization of your spine and anatomy during surgery. This technology eliminates the need for the larger incisions used in more traditional spinal surgery. It also offers faster recoveries and less pain. 
Sanford Health News
background-image

Liz Weisbrich makes complex laws simpler for providers and end-of-life care better for patients

background-image

Leaders advocating for solutions to address long-term care workforce crisis and protect access to care for seniors living in rural America
Classes & Events
background-image

Sun 06/04/23 1:30 PM - Sun 06/04/23 8:00 PM
Sanford South University

background-image

Mon 06/05/23 6:00 PM - Mon 06/05/23 7:00 PM
CHILD Services