Your Total Nervous System Specialists
The Sanford Brain & Spine Center helps you repair, realign and rebuild your body. Our team provides you with comprehensive care for a variety of conditions affecting your brain, spine and associated nerves. 
Our specialties include:
Neurology
Neurosurgery
Neurocritical care
Neurodiagnostics
Neuroendovascular care
Neuropsychology
Pain services
Physical medicine and rehabilitation
Rheumatology
Chiropractic
When you're referred to us, we will coordinate your care. Our team approach ensures that you see the specialists you need and get the care you deserve, especially for complex issues.
In the middle of the night, Sharon Solum woke up and realized she couldn't get up. Her barking dog alerted her that she was having a stroke.
Grace Connaughton was born with a rare disorder that required brain surgery at Sanford Health when she was just 1 day old.
Joan Patterson, 86, found Parkinson's was slowly taking her body and her voice. Sanford Health helped her speak up again.
MAZOR Robot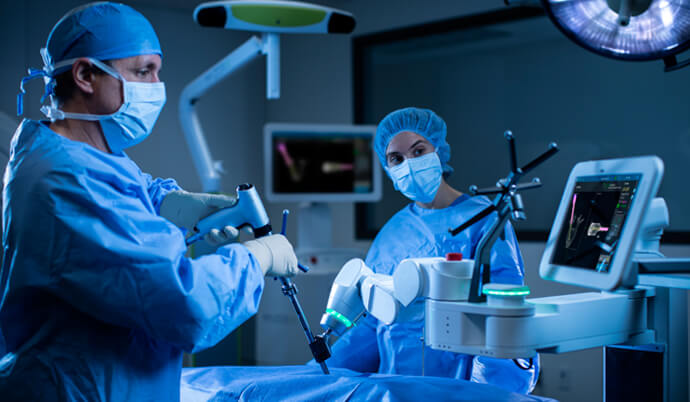 Spinal Fusion Procedures Guided by Robotic Technology
Your spine directly impacts your posture, alignment and movement. If you need surgical correction of the spine, come to Sanford Health. Our surgeons use innovative technologies that reduce the stress of surgery on your body. We offer minimally invasive surgeries so you can recover faster and feel less pain. Our robotic guidance technologies give our surgeons a visualization of your spine and individual anatomy during surgery. This technology allows surgeons to perform spinal fusion procedures with the utmost precision.
Sanford Health News
background-image

President of Bismarck region of Sanford Health was a doctor & educator first

background-image

Golfing great has played all over the world but Sioux Falls, SD, will be a first
Classes & Events
background-image

Thu 08/22/19 7:30 PM - Thu 08/22/19 9:00 PM


background-image

Thu 08/22/19 7:30 PM - Thu 08/22/19 8:30 PM
Dell Rapids