Comfort for Children and Families
Rely on us for quality care and support for you and your child. We provide a comforting environment and have specialists catering to your child's unique needs. At our children's hospice facilities, your child will be welcomed and given comfort-first care that focuses on dignity and compassion.
You and your child will have 24/7 access to a team of specially trained experts. We have nurses, pastoral care providers, clinical pharmacists and social workers dedicated to our patients' comfort.
For physicians: Refer a patient to Sanford Health.
Pediatric Hospice Services
We offer care in a home-like environment with a focus on a patient's quality of life. Our palliative services relieve a patient's pain and maximize their comfort during their stay. For children, we emphasize play and fun.
Sanford Children's Hospice provides:
Pain management
Spiritual and social support
Bereavement counseling
Palliative care physicians
Help for families dealing with the hardship of caring for patients with a terminal illness
Ava's House
Our Ava's House facility in Sioux Falls, South Dakota, offers palliative services for pediatric, adult and geriatric patients. It has unique therapeutic offerings, including music enrichment, pet therapy, aromatherapy and more.
This facility includes suites tailored for children, promoting play, normalization and coping. Every children's room has a Murphy bed, allowing a loved one to sleep near the child. Families can spend the night at Ava's House at no cost.
Call Ava's House at (605) 404-4800 to schedule a tour or to talk to a member of our care team about hospice care.
Ava's House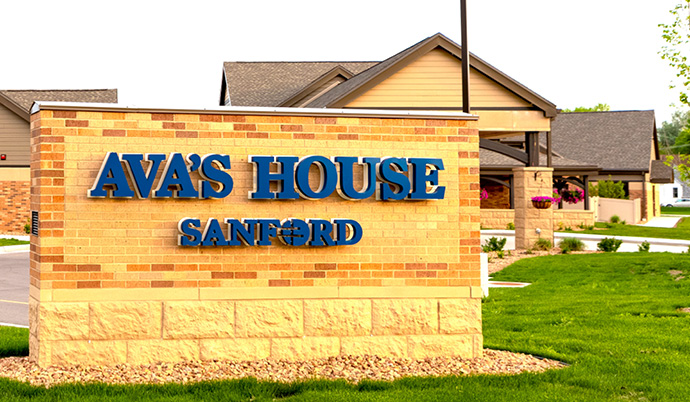 Pediatric Hospice Finds a Home in Sioux Falls
Ava's House, a new acute-level, inpatient hospice facility in Sioux Falls, SD, provides 24-hour nursing care to patients of all ages in a home-like environment. It ensures patients and families have a comforting place to turn when symptoms and pain are beyond the scope of care currently provided in other settings.
Honoring its namesake, Ava Holder, who passed away at 4 years old after a courageous battle against cancer, Ava's House also offers one of only four inpatient pediatric hospice programs in the country.
Sanford Health News
background-image

Landyn Keiser picks out toys for children's hospital, golf gear for his tournament duties

background-image

Check this list of home and family safety tips you might not have thought about
Classes & Events
background-image

Tue 09/26/23 11:00 AM - Tue 09/26/23 12:30 PM
First Bank & Trust

background-image

Tue 09/26/23 2:30 PM - Tue 09/26/23 4:00 PM
Sanford Bemidji Medical Center