Stay Active & Independent for Life
S.A.I.L is a strength, balance and fitness class offered through Sanford Health and specifically designed for adults 65+. Participants improve balance and mobility, reduce their risk of falls and improve their quality of life while having fun meeting new people.
Experienced and skillful instructors teach each class. Classes are tailored to older adults who are active and wish to maintain or increase their fitness level. Chairs will be available as needed.
Best of all, there is no cost.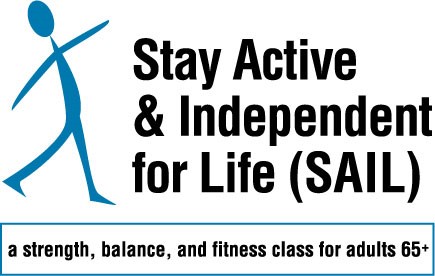 Classes take place at:
Midco Aquatic Center
1601 S. Western Ave.
Sioux Falls, SD 57105
Tuesdays and Thursdays, January 17 - April 6, 2023 from 5 - 6 p.m.
Sanford Wellness Center
4201 S. Oxbow Ave.
Sioux Falls, SD 57106
Monday and Wednesdays, January 9 - March 29, 2023 from 2 - 3 p.m.
Active Generations
2300 W. 46th St.
Sioux Falls, SD 57105
Tuesdays and Thursdays, January 10 - April 6, 2023 from 1 - 2 p.m.
Our Savior's Lutheran Church
909 W. 33rd St.
Sioux Falls, SD 57105
Tuesdays and Thursdays, February 14 - May 5, 2023 from 9 - 10 a.m.


What to expect
One hour of exercise two times per week.
Participants can sit or stand. Exercises are adapted for varying levels of physical ability.
Participants receive a copy of "Stay Active and Independent for Life: An Information Guide for Adults 65+."
Registration is required. Call (605) 333-4440 today!
This project was supported, in part by grant number 90FPSG0043-01-00, from the Administration for Community Living, U.S. Department of Health and Human Services, Washington, D.C. 20201.Grantees undertaking projects with government sponsorship are encouraged to express freely their findings and conclusions. Points of view or opinions do not, therefore, necessarily represent official ACL policy.