Visitor Restrictions
While ensuring patients are cared for in a safe and healthy environment is our highest priority, we also recognize that being alone for hospital stays and some clinic appointments can be difficult. Sanford Health is implementing a new visitor policy in response to the coronavirus (COVID-19) pandemic that is intended to minimize the spread of COVID-19 while also reducing feelings of isolation.
Hospitals
New visitor policy, effective June 26, 2020:
Hospital visiting hours are 7 a.m. to 8 p.m.
Adult patients are allowed one visitor in all areas. Because some facilities may have a slightly different policy, please call ahead to confirm. No visitors are permitted in COVID-19 units.
For end of life care, visitors will be allowed at the discretion of the facility and must follow all visitor guidelines.
Pediatric and NICU patients are allowed two visitors (adult or minor). This can include parents, guardians or other support persons.

Visitors will be screened to follow current guidelines and must wear a mask (cloth or surgical) at all times.
Clinic Visits and Outpatient Appointments
Adult patients are allowed one visitor.
NICU and pediatric patients are allowed two visitors during their appointment. This can include parents, guardians or other support persons.

Visitors must wear a mask (cloth or surgical) at all times.
Directors can make exceptions on a case-by-case basis.
Long-Term Care Facilities
What this means in our skilled nursing and assisted living facilities:
All locations are temporarily closed to all visitors until further notice to protect the health of our employees and residents who face the highest risk of illness.
Friends and family are encouraged to communicate with loved ones remotely through phone calls, Facebook or video conferencing.
Preparing For Your Appointment
We're taking every precaution to keep our patients safe before, during and after their in-person appointments. And, by taking a few simple steps, you can also play an important role in your own safety and the safety of those around you. Together, we can help slow the spread.
For your upcoming appointment, please:
Contact your doctor's office if you're experiencing COVID-19 symptoms. Symptoms include fever, cough or shortness of breath.
Wear a face mask to your appointment. We strongly encourage you to bring your own mask. If you don't have one, we will provide one for you.
Honor our visitor restrictions policy. This precaution helps keep you, our community and employees safe. Please review our visitor restrictions (see above) prior to your appointment.
To learn more about COVID-19 and the steps you can take to stay healthy, explore our COVID-19 resources.
Learn More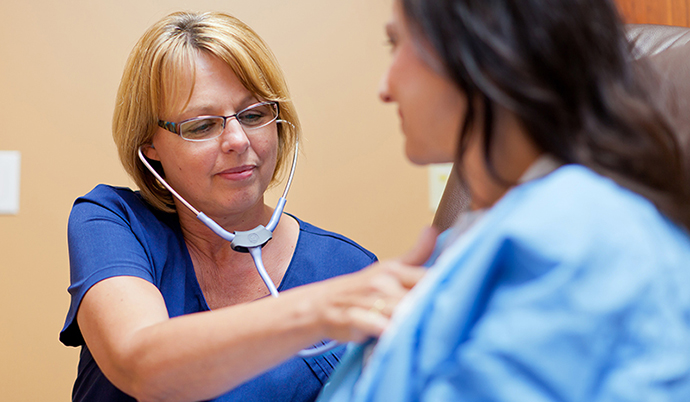 Visitor Policy Promotes a Safer Environment at Sanford
One visitor per patient limits chances of spreading COVID-19.
"It's another area and another group of individuals that are likely to be vulnerable," Dr. Suttle said. "They're already sick. Their immune systems could be compromised."
Even if you are not sick, you could be a carrier, Dr. Suttle said. And as there are no treatments or vaccines for COVID-19, visitor restrictions and other social distancing measures are in place to help stop its spread.
Laboratory Updates
Bemidji, MN
An alternate lab sample collection site for provider-ordered COVID-19 is in place in Bemidji. The location is only for patients with a provider order for a COVID-19 test. This site is not for "drive through" access to testing and individuals without a provider order will be turned away.
To receive the order, patients must meet all of the CDC requirements for COVID-19 and have an order from a Sanford provider to be screened.
For more information and testing questions, call (218) 333-5000.
Facility Closures
This is the most up-to-date information on closures. If you have an appointment please assume it is as scheduled unless you hear otherwise. The following Sanford locations are closed until further notice to slow the spread of COVID-19:
North Dakota
Sanford Health News
background-image

One no-no: high intensity activity before bed (unless you want your kids awake)

background-image

Home health services can help you stay safe at home longer
Classes & Events
background-image

Thu 08/13/20 6:00 PM - Thu 08/13/20 8:30 PM
UND Center of Family Medicine Building

background-image

Thu 08/13/20 6:30 PM - Thu 08/13/20 9:00 PM
CHILD Services