Visitor Restrictions
Ensuring patients are cared for in a safe and healthy environment is our highest priority. Sanford Health is implementing a new visitor policy to protect the health and safety of our patients, families and staff in response to the coronavirus (COVID-19) pandemic. The new policy follows guidance from the U.S. Centers for Disease Control and is intended to minimize the spread of COVID-19 in Sanford Health clinics and medical centers and the communities we serve.
Medical Centers, Hospitals and Clinics
New visitor policy, effective March 27, 2020:
No visitors will be allowed in medical centers and hospitals with the following exceptions:

For births, NICU and pediatrics, patients will be allowed

one

pre-determined visitor, per day
For end of life care, visitors will be allowed at the discretion of the facility

For end of life COVID-19 patients will be allowed

one

pre-determined visitor, per day. Visitors will need to be masked and self-quarantine for 14 days following visit.

Patients are not allowed to bring guests to clinic appointments with the following exceptions:

Children may have

one

parent or guardian with them during their appointment.
Adults requiring assistance may have

one

guest with them during their appointment.
Long-Term Care Facilities
What this means in our skilled nursing and assisted living facilities:
All locations are temporarily closed to all visitors until further notice to protect the health of our employees and residents who face the highest risk of illness.
Friends and family are encouraged to communicate with loved ones remotely through phone calls, Facebook or video conferencing.
Learn More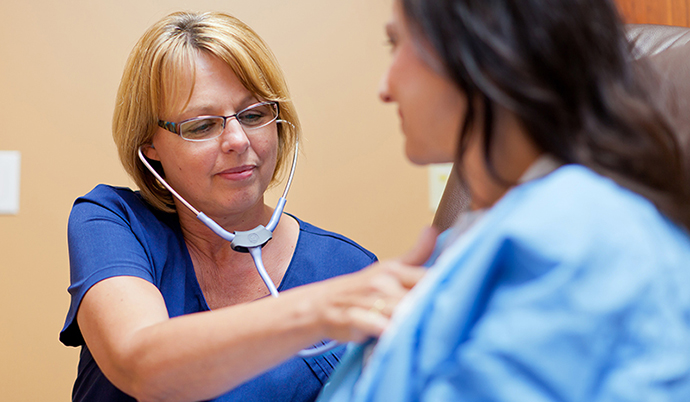 Visitor Policy Promotes a Safer Environment at Sanford
One visitor per patient limits chances of spreading COVID-19.
"It's another area and another group of individuals that are likely to be vulnerable," Dr. Suttle said. "They're already sick. Their immune systems could be compromised."
Even if you are not sick, you could be a carrier, Dr. Suttle said. And as there are no treatments or vaccines for COVID-19, visitor restrictions and other social distancing measures are in place to help stop its spread.
Laboratory Updates
Bemidji, MN
An alternate lab sample collection site for provider-ordered COVID-19 is in place in Bemidji. The location is only for patients with a provider order for a COVID-19 test. This site is not for "drive through" access to testing and individuals without a provider order will be turned away.
To receive the order, patients must meet all of the CDC requirements for COVID-19 and have an order from a Sanford provider to be screened.
For more information and testing questions, call (218) 333-5000.
Facility Closures
This is the most up-to-date information on closures. If you have an appointment please assume it is as scheduled unless you hear otherwise. The following Sanford locations are closed until further notice to slow the spread of COVID-19:
Iowa
Minnesota
North Dakota
South Dakota
Sanford Health News
background-image

Meghan Gulmon has more duties because of COVID-19 but leads with a calm spirit

background-image

With few visitors allowed, patients get to wave through their windows
Classes & Events
background-image

Thu 04/02/20 7:30 PM - Thu 04/02/20 9:30 PM
Online class

background-image

Tue 04/07/20 6:30 PM - Tue 04/07/20 8:30 PM
Online class