Doc Talk
Sanford Health is dedicated to providing the communities it serves with relevant and up-to-date health information. Doc Talk is a free education series where Sanford physicians present and answer your questions on a wide variety of topics.
Bismarck Doc Talk
Robotic Hernia Surgery: A Quicker Way To Recover
November 19, 2019
6 p.m. - Presentation
7 p.m. - Free hernia screening
New Location:
Bismarck Veterans Memorial Public Library
515 N. Fifth St., Bismarck, ND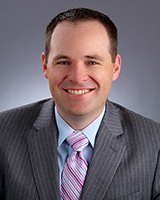 Join Joshua Knudson, MD, general and robotic surgeon, for a Sanford Health Doc Talk about robotic hernia surgery. Hernias are one of the most common non-urgent surgery needs in the U.S., and robotic hernia surgery is improving the overall patient experience.
Dr. Knudson will provide answers about how this new surgical technique is replacing open hernia surgery and the many benefits it provides. Then, get a free hernia screening from the Sanford Health team.
Registration is required. Register below soon or call (844) 362-6330 to learn more.
Bismarck Doc Talk Registration