Cooking with a Cardiologist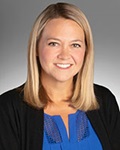 Join cardiologist Kelly Steffen, DO along with chef Jade Fagerland to discuss heart health and prepare three heart-healthy freezer meals.
Prep and package the meals from the comfort of your own home while learning heart-healthy tips for the whole family. Recipes and grocery items are listed below to prepare for your shopping. Cook one or all three.
Recipes you will be making:
This class is designed to help busy parents and individuals learn simple ways to eat healthier.
This event will be streamed online. Must register to attend. Join us for a great time!